MECHANICAL BULL RENTAL SETUPS
#1 BUCKAROO STANDARD SET UP
COWHIDE COVERED MECHANICAL BULL
Black 15ft Round Mat
(1) Operator
(2) Artificial Hay Bales
Western Signage
Generator
Sound / Music System
Up Lighting / If operating after sundown
*CALL FOR PRICING*

#2 BUCKAROO DELUXE SET UP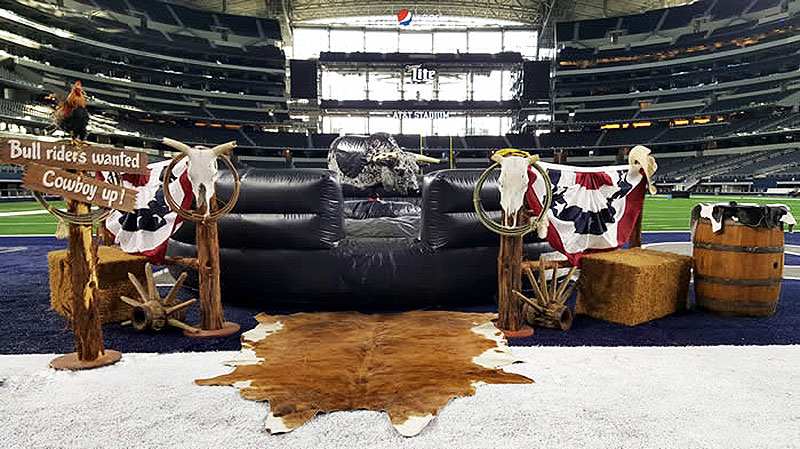 COWHIDE COVERED MECHANICAL BULL
'Cowboy Up' decorated sign post with 2 signs, rope and rooster
(2) Rodeo decorated 6ft cedar fence sections
(1) Whiskey barrel with cowhide cover
(1) Cowhide , misc tack and décor 
(2) Artificial haybales
Sound / Music , PA System & Up Lighting
*CALL FOR PRICING*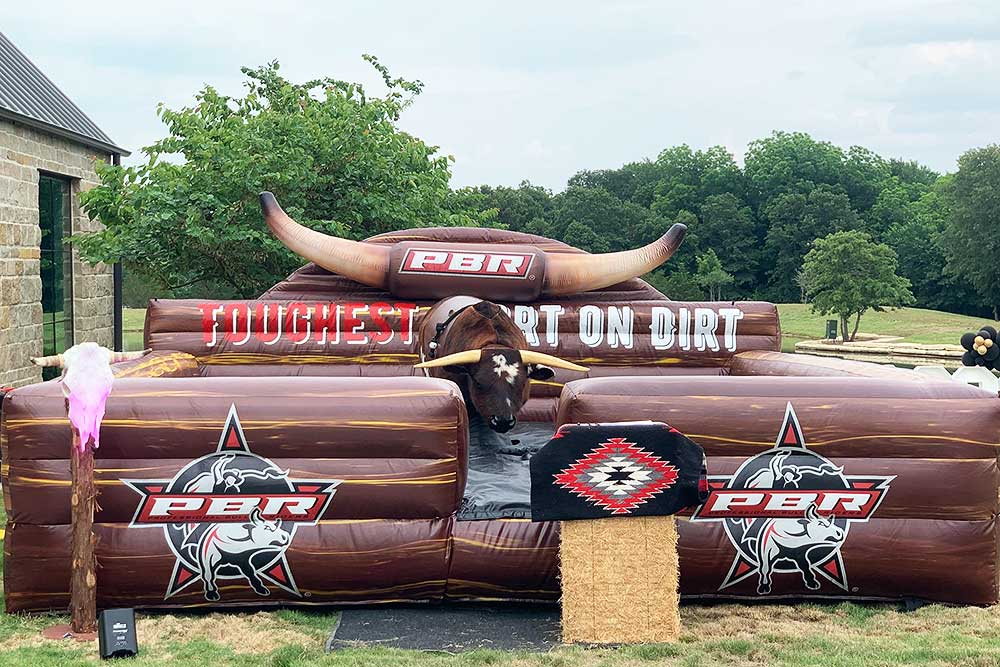 'OUTLAW' – COWHIDE COVERED MECHANICAL BULL
Light décor
Misc tack & décor 
(1) Artificial haybale with blanket 
Sound / Music , PA System & Up Lighting
*CALL FOR PRICING*
'OUTLAW' COWHIDE COVERED MECHANICAL BULL
Custom PBR Mat
(2) Wagon Wheels 
(2) Whiskey Barrels
(2) Saddles
Misc tack & décor 
Cowhide 
Western Signage 
Sound / Music , PA System & Up Lighting
*CALL FOR PRICING*
#5 BULL RIDER STANDARD CORRAL PACKAGE
COWHIDE COVERED MECHANICAL BULL
(2) 6ft Cedar Fences
(3) Saddles
(2) Artificial Hay Bales
Misc tack & décor  
Sound / Music , PA System & Up Lighting
*CALL FOR PRICING*
#6 BULL RIDER DELUXE 30ft x 30ft ENTRY & CORRAL PACKAGE

COWHIDE COVERED MECHANICAL BULL
30ft x 30ft Western decorated Entry & Corral
Heavy Western Décor at front Entry
6ft Rodeo Banners
(2) Artificial Hay Bale benches inside the arena area
Misc tack & décor
Sound / Music , PA System & Up Lighting
*CALL FOR PRICING*
#7 STATE FAIR SET UP 20ft x 20ft CORRAL PACKAGE
COWHIDE COVERED MECHANICAL BULL
20ft x 20ft enclosed riding corral with operator tower, entrance & exit gates
Light western décor on fences, custom sign 
*Please don't climb on the fence signs*
Misc tack & décor  
Sound / Music , PA System & Up Lighting
*CALL FOR PRICING*s
#8 GILLEY'S STANDARD BULL SET UP
COWHIDE COVERED MECHANICAL BULL
20ft x 20ft enclosed riding corral with operator tower, entrance & exit gates
Light western décor on fences, custom sign 
*Please don't climb on the fence signs*
Misc tack & décor  
Sound / Music , PA System & Up Lighting
*CALL FOR PRICING*s
*Set Up pictures and details coming soon*
#9 GILLEY'S DELUXE BULL SET UP
Includes: An authentic Mechanical Bull from Gilley's in Pasedena, TX
where the Mechanical Bull craze begain in 1980
4ft x 8ft walls with authentic Gilley's memorabilia and framed photos
Welcome Rodeo Fans banner
Misc tack & décor
Sound / Music , PA System & Up Lighting
*CALL FOR PRICING*s
*Set Up pictures and details Coming Soon*

Customers may request which bull or animal type they would like on their set up
 on a first come, first serve basis or availability.
 Mechanical Armadillo (ARNIE DILLO), Wild Hog (HARLEY) & RAM (ROCKY)
are available for your mechanical riding entertainment and fun!
*They may be used on any of the available options*
*For additional pricing, Mechanical Bull packages/setups can be customized to your desire *
Need a Rodeo Theme backdrop for your special event?
Our 12ft high x 20ft hand painted canvas backdrop will set the atmosphere for your Mechanical Bull
IF YOU ARE IN NEED OF ANY OTHER WESTERN EVENT DÉCOR OR SERVICES
Please ask your sales representative for assistance, we want your
party or special event to be the talk of the town!
* Fill out form below and we'll send you an agreement asap *
MECHANICAL BULL RENTAL FORM
ALL FIELDS WITH A RED ASTERISK

*

REQUIRED 
* Fill out form and we'll send you an agreement asap *
* MAT MEASUREMENTS - 15' X 15' X 45" REQUIRES 20' X 20' LEVEL AREA FOR PROPER PLACEMENT WITH
(1) 220V/ 30 AMP AND (1) 110V / 20 AMP POWER OUTLETS WITHIN 65' OF THE MECHANICAL BULL SETUP
* Setup requires an entryway with a minimum of 42" width and 6.6 feet high for clearance
* No stairs, dock and any delivery situations where the Mechanical Bull is to be lifted for
setup can be used due to the weight of the Mechanical Bull *
FEEL FREE TO CONTACT US IF YOU HAVE ANY QUESTIONS OR REQUESTS FOR YOUR SPECIAL EVENT